Browsing articles in "Deep"
One of my favorite label owners Sticky Stockholm has just unleashed his "Go To Church"  Ep. This ones as heavy in the vibes as it is bass.
The Ep's 4 tracks create a working hybrid of Tech House, Future Club, & Bass that work well on both the dancefloor and the iPod.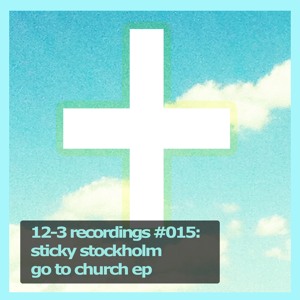 Go To Church EP (12-3 Recordings, 2011) – [PREVIEW] by Sticky Stockholm
Be sure to check out some of the other 12-3 releases on their Soundcloud.
SF based selector Just Loco of Goldsweat & Club 91 has uploaded this awesome mix called Moonsluts Vol.1. Cool space & sex vibes plus tight mixing makes this one of my favorite mixes of the summer. I was exposed to a number of artists that are featured in the mix & I think you guys will dig it too.
Jump To This head honcho Hey Sam put this booty up for free download ~ Check it!

Introducing Jump To Funk
You may remember back when we mentioned up-and-coming record label Jump To This, or even introduced you to the sounds of Melbourne duo Yasumo and guru of all things bouncy and groovin - Jesus, we'll your in for a treat!
Jump To This presents the brand new sublabel 'Jump To Funk Records' with a focused sound towards funky, jackin' and disco house.
This sublabel comes from the success of Jump To This' recent various artist album with the similar sound direction 'JTT004 Jump To Funk.' As there is a few sneaky samples thrown amongst these tunes, releases will be available exclusively through stompy at: www.stompy.com/Label/Jump+To+Funk
JTF001- JUMP TO JESUS
1. Got Some Love
2. Dont Stare
3. Jack That Flow- Hey Sam & Jesus
JTF002- JUMP TO YASUMO
1. 9MC
2. Sea Sharp
3. Take Me Home

A CD MIX!
For a man who's been in the industry for over two decades, there's little left to conquer for Pete Tong. Future Underground has the legendary Pete Tong lined up with JustShakeIt! favorite Riva Starr to bring the clatter to the masses. These two absolute titans have joined forces and even though i've not had a listen to it yet, I just know it's going to be unreal… Take from the man himself:
PETE TONG this is ESSENTIAL….
Artist: VA – Pete Tong & Riva Star
Title: Future Underground
Label: ITH
Genre: Tech House, Deep House, House
Catalog: DFPFU01D2
Release Date: 11.04.2011
Source: Digital
Quality: 320 kbps / 44.100 kHz / Joint Stereo

Tracklist:
01. Guti & Dubshape – Every Cow Has A Bird (Original Mix)
02. Deniz Kurtel featuring Jada – The L Word (Original Mix)
03. Leon – Cause I Love You (Original Mix)
04. Savino Martinez – Piano Is Not Over (Original Mix)
05 .Maya Jane Coles – What They Say (Original Mix)
06. Shonky – Les Shonkettes (Original Mix)
07. Maximiljan – Ready (Original Mix)
08. Pete Tong – Wardance (Original Mix)
09. Tom Flynn – Circus Night (Original Mix)
10. Kaiserdisco – Amalfino (Original Mix)
11. Dualton – Formula (Original Mix)
12. N.E.R.D. – Hypnotize U (Original Mix)
13. Gary Beck – Hands In Mine (Original Mix)
14. Tong & Rogers – Headstrong (Original Mix)
15. Paco Osuna & Daniel Sanchez – Kawuriel (Original Mix)
16. The Japanese Popstars – Song For Lisa (Original Mix)
17. Cajmere featuring Dajae – Brighter Days (Original Mix)
18. Sandy Huner & 2000 and One – Tap Deux (Original Mix)
19. Riva Starr presents STARR TRAXX – More (Original Mix)
20. Tube & Berger – Kreidler Flory (Original Mix)
21. Prince Club – Mr. Freeze (Original Mix)
22. Cajmere – Percolator (Original Mix)
23. Sean Miller – Chic Easy (Original Mix)
24. Gary Beck – Get Down (Original Mix)
25. Santos – Hold Home (Original Mix)
26. Edu Imbernon – Room 423
27. Riva Starr featuring Rettore – Splendidub (Original Mix)
28. Round Table Knights vs Bauchamp – Calypso (Original Mix)
29. Fausto Messina – Tmelas Fras (Original Mix)
30. Caie! & Lagora – Le Cher Rayonnent (Original Mix)
31. Rainer Weichhold & Heartik – Couscous (Original Mix)
32. Adam Port – Symphony (Original Mix)
33. Pablo Rez – Reclaim (Original Mix)
34. Sreve Bug – As It Was (Original Mix)
35. Pete Tong – Pete Tong & Riva Starr – Future Underground – Bonus Mix 1 by Pete Tong
36. Riva Starr – Pete Tong & Riva Starr – Future Underground – Bonus Mix 2 by Riva Starr

Introducing Punchout! Recordings ~
I caught out this label doing all things good thanks to JustShakeIt! favourite Go Go Bizkitt!
You can catch Go Go Bizkitt'z latest track `Touch That` as part of the (suitably named) `Filtered For Your Pleasure Ep` out April 18th from Punchout! Recordings.
A sample of the ep below~
You need to check out:  `Just for you`, `Le Bounce` and of course `Touch That`

Introducing Black Rose ~ Henrik Scwarz and Jesse Rose

What do you get when you bring together two of the most respected pillars in today's House music culture? The answer is quite simple yet so hard to predict: an anthem.
'Anthem' is a dive into reggae dance, with a sampled vocals from Barrington Spence that have been cut up and laid over a bump-to-bump bassline that carries everything along.

Monkey Safari are at it again!
These musically creative Germans have just put up a new 'Spring Swing Mix' featuring some of our favourites…
Parov Stelar, Round Table Knights, Catz 'n Dogz and Daniel Steinberg – Just to name a few!
They've also included some of their own unrealeased tracks!
Download and tracklisting after the jump!
1. Joubert Singers – Stand On the Word (A Clapella Mix)
2. Tavo – Hollywood (Black & Tan) (Tavos Nuclear Remix)
3. Parov Stelar – Booty Swing
4. South Of Roosevelt – Everybody Loves (Vocal Mix)
5. Wareika – Mountain Ride
6. Tube & Berger – La Boca Loca (Simon2 Remix)
7. Jules & Moss – The Docks
8. Luca Lozano – Heaven & Hell
9. Monkey Safari – Sure…Fatty!
10. Daniel Steinberg – On The Train
11. Monkey Safari & Super Flu – Hallo Halle
12. Round Table Knights feat. Ogris Debris – Say What
13. Catz 'n Dogz feat. Dop – Sunset In The East (Guillaume & The Coutu Dumonts Remix)
14. P'taah – Your Soul On Mine (Spencer Parkers A Gun For Hire Remix)
Dirtybird was founded on quirky ideas and big bottom end.From Claude VonStroke to the Martin Brothers, over the last 6 years the label has released some massive BASS jams with a wide variety of influences. They decided to showcase their BASS and make a full release of this low slung sound.
The release includes several classic and some unknown BASS tracks as well as a fresh mashup by James Zabiela of DJ Marky & S.P.Y.'s  remix of  VonStroke's "Aundy" and also a gorgeous new DnB style house gem by J. Phlip and Julio Bashmore.
Ghetto princess J. Phlip, has been killing it all over the world from Berlin to LA this year.  So along with her new track with Julio Bashmore she also made an exclusive dirtybird BASS mix just for the compilation. Her mixes have been on constant rotation for years, and this is her first official mix release (finally!).

Check it
TUNE!
With the first play on BBC Radio1 from Pete Tong (03-12-2010) this weekend all eyes are on Snatch! Record's new signees Jet Project. The Northern Irish duo are responsible for an impressive slate of remixes and tracks; Timmy Stewart & John McIver follow releases on Get Physical, Viva Music and Silicon Soul's Darkroom Dubs with two outstanding structurally simple yet bass-heavy tech house cuts.
We're on Facebook
MXTAPES BY JUSTSHAKEIT DJS
Soundcloud
Posts Calendar
feel like surfing?
Disclaimer
All music posted here is aimed to promote new artists, give you a chance to listen to their music, and ultimately provide you the opportunity to support them by buying it. If you the artist/supporting body have an issue with anything we've featured please e-mail us immediately. If you are an artist and want some promoting, send us your tracks and we'll check it/them out. If you just want to say hello - e-mail us.